Bistro MD voted best tasting
weight loss program!
Pick your meals and save today!
---
VEGAN TESTING

These tests will determine if you're allergic to any animal-derived foods.
---
---

Ayurveda Remedies
---
Weight Watchers

Digital App: Get a food and activity tracker, barcode scanner, free rewards, and WW-approved recipes
Our other site:

AstroStar.com





Copyright 2020. All rights reserved.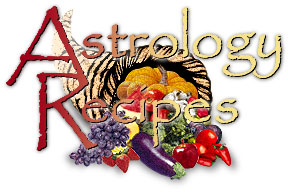 ASTROLOGY-RECIPES.COM
Easy to prepare recipes for every astrology sign.
Recipe Pages
Almond Appetizers Apples Asparagus Apricots Avocado

Bacon Bananas Basil Beans & Legumes Beef Beets Bread Broccoli

Cabbage Carrots Cauliflower Cheese Chia Seeds Chili & Cayenne Chicken Chocolate-Dark Coconut Coffee Corn Cucumber Curry

Eggs

Fish-White Flambe

Garlic Ginger Grains

Ham Honey

Lemon

Macaroni & Cheese Milk

Noodles & Pasta

Olives

Pomegranate Popcorn Pork Potatoes Pumpkin Purslane

Red Cabbage

Salads Salsa & Hot Sauce Seafood Shrimp Soups-Cold Soups-Thick & Hearty Spinach Sunchokes Sunflower Seeds Sweet Potato

Tofu Tomato

Wine

Yogurt
---

FUNNY FOOD RECIPES